Business analysts help facilitate solutions for stakeholders
When a business needs to solve a current or future problem it's a business analyst's job to help facilitate a solution.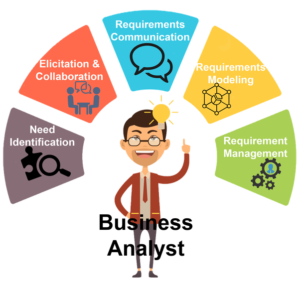 Mainly we help by working with stakeholders to define their business needs and extract their requirements for what must be delivered. We gather the business' required conditions and capabilities. We then find useful ways for our team to design and deliver the solution.
We offer guidance and advice on what requirements and solutions will best fit a business' needs, now and into the future. We work closely with key business decision makers as well as development and testing teams. We ensure the solution developed will meet the business' requirements in an acceptable and sustainable way.
Business analysts aren't limited to one task or activity
We'll often wear many hats as our tasks, activities and responsibilities are always changing. Here are just a few of the things we might do in any given day:
Analyse business needs
Define a business case
Elicit information from stakeholders
Model requirements
Validate solutions
Project management
Project development
Quality testing
Business analysts are information conduits
Every project I've worked on has encompassed a wide and varied range of stakeholders. These include managers, end users, vendors,  customers, developers, testers, and more.
All these stakeholders have different needs, goals and knowledge of the business. It is my job to bring all this knowledge together, analyse the information gathered and provide a clear understanding and vision for everyone to work with. I'm also inherently responsible for bridging the gap that exists between IT and the business.
I often compare business analysts to interpreters. Like translating French into English, we translate our business stakeholders' needs into a language the IT or development team can understand.
Vice versa, we'll interpret tricky IT questions and technical complexities for our business stakeholders in a way that makes more sense to them. This empowers them to decide on how best to move the project forward.
Get in touch NOW for a FREE consultation